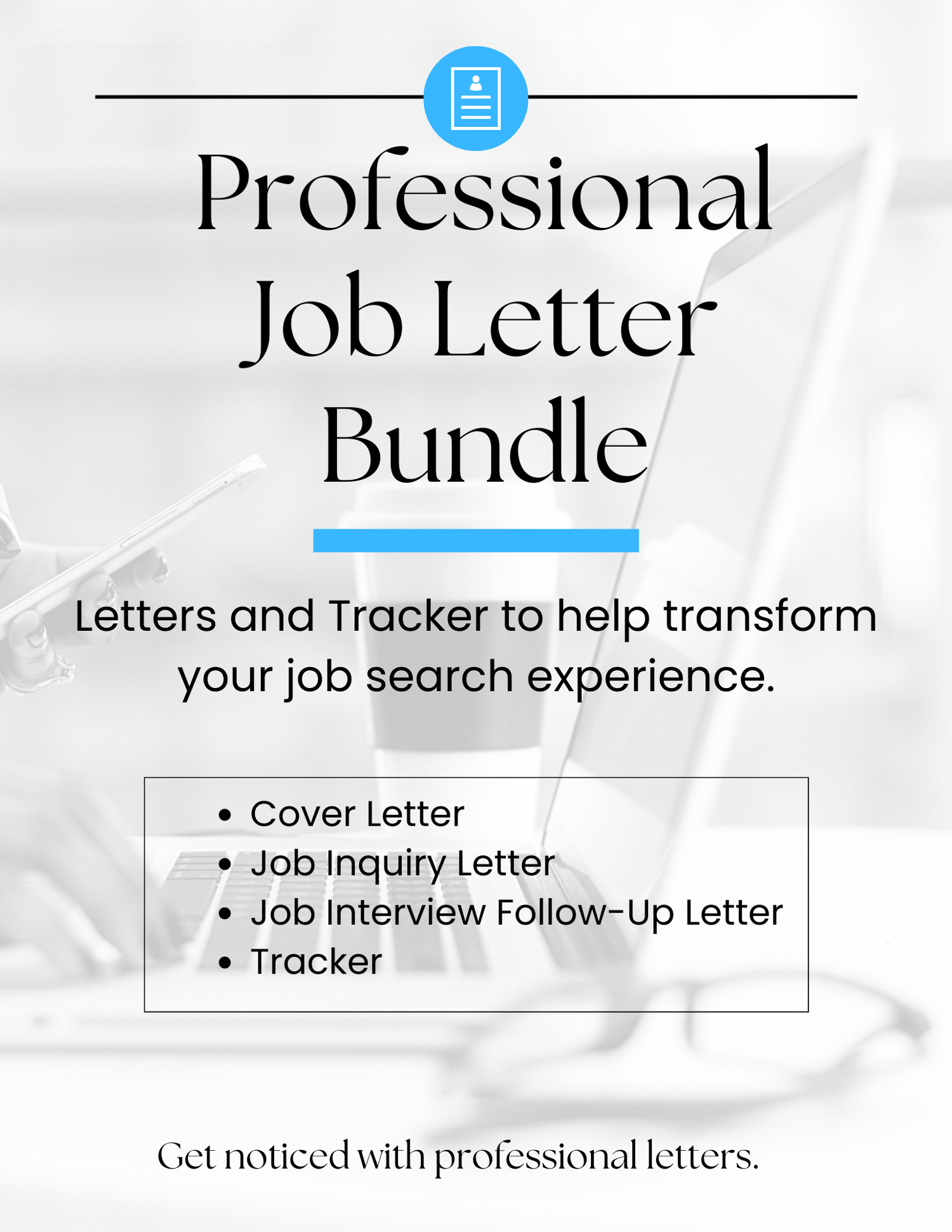 Job Letter Bundle
On Sale
Job Letter Bundle

Have you ever wanted to send a Job Inquiry email or a follow-up email regarding a job and you just don't know what to say?  Not anymore!
This bundle contains important letter templates that are written for you.  All you need to do is replace the text with your name, email, job information, and so on.  The letters (or email) format has been developed for you. This includes fonts, spacing, and even keywords.  Easy! You got this! 
Package contains:
Cover Letter (Email)
Job Letter Of Interest Email or Job Inquiry Letter
Job Interview Follow-up Email (Letter)
Letter Tracker
Letters are in an editable .doc file formatThe tracker is in PDF format.
---
Cover Letter 
The cover letter template is in an ATS-friendly layout.  The template includes keywords that will help get you noticed and stand out among
thousands
of job applicants. If you are applying for federal jobs (Schools, Universities, Government, Post Office, etc.), a resume AND cover letter are usually required. Not an option, but required. Often, employers will request a cover letter when applying to nonfederal jobs as well. 
Job Inquiry OR Job Letter of Interest Email 


This letter is almost like the
"secret sauce"
for getting ahead of applicants
before
a job is posted.  Often times when you take the initiative to seek out a job and contact the employer, this will help you stand out. The Job Inquiry letter is carefully crafted, using "buzz" words to attract employers. 
You will want to send this letter when you are looking for a job at an organization
.  Sometimes employers want to save money in posting for jobs and by sending them this letter, you have helped them accomplish just that.
Job Interview Follow-Up Email (Letter)
This is the perfect little reminder to the employer that you are still interested in the position and to thank them for taking the time to interview you.  Most job applicants do not send follow-up or thank-you emails after the interview. This letter is written for you with space to "remind" the interviewer of your interest and skill for the position.  You are telling them why you are a good fit for the position. 
You want to send this letter 2 days after your interview (if you do not have a job offer or communication from the employer)
Letter TrackerThis is one of our favorite tools! 
Love this.  You want to make sure you keep track of who, when, what, and where you are sending your emails (letters).  You do not want to send an email to the interviewer twice.  Yes, this happens.  This tool allows you to keep track of communication with employers.
All sales are final.